Professional Winter Driving
In recent winter months, I've taken a couple of students out on mountain trips. These consist of 8-hours in the truck driving through the remote country in south-central British Columbia.
When the student arrives, my personal vehicle is parked beside the "big truck". From there I'm loading supplies into the rig: clothes consisting of ski jacket, snow pants, mitts, scarves and a touque. Blankets and enough food for a couple of days complete the list of supplies.
Both students of late have arrived wearing little more than a spring jacket. Neither brought any food. Consequently, part of my task as an instructor is to get them to think about driving an ole' truck through the remote regions of BC's Rocky Mountains in the winter. A place where the weather can change by the hour and cell phone reception can be sketchy.
Despite common perceptions about the dullard behind the wheel, truck driving is a "what if?", not a "what is" activity. And winter driving demands a "professional driver" be thinking about contingency plans.
What if…that car pulls out in front of me?
What if…that light turns red?
What if… the truck breaks down on the highway and there's no cell reception?
What if…there's a winter storm?
What if…I'm stranded for a period of time?
When venturing into the mountains in a big truck during the winter you should be prepared with lots of clothing, bedding and non-perishable food items in the vehicle. Even the best drivers break down; even the best drivers spin out and end up in the ditch, and even the best drivers encounter inclement weather that may take days to abate.
Yet, it is the professional driver that is prepared. In trucking–like so many things in life–just because an event was unforeseeable, doesn't mean it was unforeseen!
Items to keep your big truck moving
Shovel
Sand or salt
Chains
Jugs of windshield washer fluid
Items to stay warm
Blankets
Layers of warm clothing
Numerous pairs of gloves
Candle
Communications
Charged Cell phone
Flares or reflective triangles
Items "to weather the winter storm"
Candle
Pot for melting snow
¼ tank of fuel
Non-perishable foods such as granola bars, cans of Chunky Soup
(Be sure to bring the can opener or knife to open the can)
Medications & first aid kit
Bottled water
If you are venturing any distance from an urban area in winter, your vehicle should be stocked with items that will allow you to survive for 12 to 72 hours in the event of becoming stranded.
Most importantly, any medications that you are taking must be in the vehicle with you. Packing your medications is essential when travelling on remote roads and highways during the winter. Quite literally, medications may mean the difference between life and death.
Any outdoors person will tell you that you must dress in layers to stay warm. Rule of dress: if you have too much on, you can take some of the layers off, but if you don't have it with you – you're just going to be cold…or worse.
Torso clothing

Pants & Leggings

Undershirt
"T" shirt
Button down shirt
sweater
hoodie or sweater
winter jacket
scarf

long johns
pants,
snow pants
You can put these layers on to work outside around the truck and take them off to drive the truck. It might even be a an idea to have a pair of insulated coveralls to work outside the truck – particularly to mount chains, or strap and tarp a load if you're pulling a flat deck.
There are many places in the North American Rocky Mountains where your cellular phone is simply not going to work. In that case, it is imperative that you consider how long it is going to be before help arrives if you become stranded on BC's rural highways?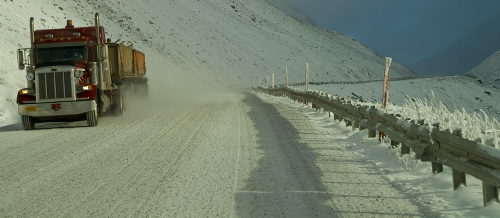 At one and the same time, ensure that your cell phone is fully charged or that you have the charger in the vehicle that will allow you to call for help in the event of a breakdown or becoming stranded.
In the event that your vehicle becomes stuck in the snow, you will require a shovel to dig out the vehicle. As well, sand, chains and perhaps salt will provide some extra traction that can potentially help you to get your vehicle moving again.
Finally, the "survival" and "stay warm" items on the list will allow you to wait out a storm in the event that your vehicle becomes stuck and you are stranded. Non-perishable food items, a candle for heat and to melt snow, and a pot are essential. Warm blankets and clothing will allow you to stay warm while you wait out the storm.
Under no circumstances should you leave the vehicle. Wait in the vehicle for help. The vehicle provides shelter and your chances of survival are much, much greater.
Run the engine for warmth and heat, roll the truck window down for fresh air. In a big truck there is less chance of carbon monoxide poisoning, but there is a possibility. To run the vehicle you must have adequate fuel; therefore, in the winter, keep the fuel level above ¼ tank.
Also, by keeping the tank above ¼ tank, you reduce the chance of the fuel lines freezing.
Professional Drivers strive to be better
With a little preparation and forethought, winter drives can be a rewarding challenge. Ensure that your vehicle is stocked with medications and supplies that will allow you to survive anything that Ole' Man Winter may throw your way. Professional drivers work to be better, and winter driving provides many opportunities to hone your skills.
What is your winter storm survival story?
What advice would you give to new drivers starting out this winter?
PLEASE SHARE this article if you found it useful.