Tis the season – for boats, RVs & trailer that is. For some, pulling and backing a trailer is as easy as falling off the proverbial roof. For others, this task proves more daunting.
Driving a Larger Vehicle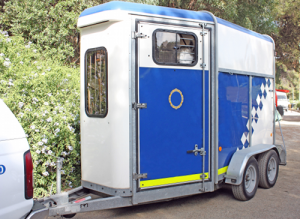 The first aspect that many realize right away is the increased size of the unit they are now driving. Most passenger vehicles are 15 feet in length. Any trailer, therefore, is immediately going to at least double the size of the vehicle you are driving. And because you're now driving a unit that is roughly 30 feet in length, it makes it nigh impossible to "pop round" to the local coffee shop drive-thru for a "cup a' joe".
In addition to the increased size, it is important to know the weight of your trailer and the towing capacity of the towing vehicle. Too many people have found themselves in trouble due to the fact that they attempted to haul a trailer too big or too heavy. Remember, it is you and your family that are going to be at risk, therefore, if there is any doubt whatsoever, seek a second opinion.
Driving to be Predictable
RV dealers or commercial driving schools will be more than happy to assist you to determine if your tow vehicle is capable of safely pulling the trailer you've purchased. As well, BC's Towing a Recreational Trailer: what you need to know offers solid advice for drivers wanting to pull a trailer.
The bulk of motorists know that simply following the road rules is not the only force at work when operating a motor vehicle. The following:
• Proceeding through the intersection immediately after the light changes
• Driving with the flow of traffic
• Maintaining a constant speed
are all examples of social driving. Consequently, when pulling a trailer, there is a need for a mental shift in one's driving. In other words, it is important to know about the social forces at work, and operate the towing vehicle according to its capabilities – not according to the social pressures applied as result of the few cars tailgating you as you proceed up a hill.
Increase Your Following Distance
With the above in mind therefore, it is important that you drive in the right-hand lane when on a multi-lane highway. Importantly, following distance must be increased to 3,4 or even 5 seconds when towing a larger trailer.[1]
Driving overall is going to be a different experience with a trailer. First, the vehicle's acceleration and braking are going to be negatively affected. In other words, the vehicle's ability to reach highway speed is going to be reduced and your vehicle will require greater distances to stop. To compensate for the reduced braking, drivers should increase their following distance to 5 seconds.
As well, because of the slower acceleration, drive in the right-hand lanes when pulling a trailer.
To maintain control through curves and corners, slow the vehicle before entering, and then as you proceed through the turn, accelerate slightly. This way, the trailer does not push the power unit, which could potentially cause you to lose control. In tight spaces when turning, take turns as wide as possible so as not to hit objects with the trailer.[2]
Most Parking Lots are Off-Limits
The majority of parking lots are simply off limits when pulling a trailer. Drivers that possess moderate skills will find that driving forward is much more desirable. In fact, parking generally is going to prove challenging. As a result, trip planning and navigation will save you a lot of grief. Despite a GPS device being accurate most of the time, it may not prove so reliable for larger vehicles. Use other sources such as Google maps to ensure accurate directions.
Good trip planning can save you the grief of backing out of a dead-end street or driveway.
Before departing conduct a thorough pre-trip inspection. The inspection should include the following items:
Safety chains attached corrected.
The hitch is locked and secured
Lights work
Tires are properly inflated – once a year the wheel bearings should be checked
The load is secure and properly distributed – another person, for example, didn't erroneously pile 6 flats of water at the back of your single axle camper trailer
All doors, flaps and drawers are closed and secure
Ensure that heavy objects inside the trailer are close to the floor, and over or slightly in front of the axle(s).
See Towing a Recreational Trailer for a detailed description of a pre-trip inspection.
Towing a trailer offers many rewarding experiences from boating to RVing to snowmobiling and ATVing. If you are considering purchasing a trailer, follow the few simple guidelines above, take a moment to prepare yourself for the task ahead and conduct a pre-trip inspection. Proper planning and know-how will make your journey a safe one.
With the proper training, practice and information, towing a trailer is simple and effective. Provided are helpful guidelines and tips.
[1] For an explanation of determining following distance using time see SGI's Handbook @: http://www.sgi.sk.ca/individuals/licensing/studyguides/drivershandbook/basicskills/timejudgement.html
[2] For a definition and explanation of off-tracking see: Driving Commercial Vehicles: a guide for professional drivers, 32.